Welcome to BATTAMBANG.
Pregnancies, prophecies, disappearances, murders, music, art and living histories: could this be the heart and soul of Cambodian Rock & Roll?
by Julien Poulsen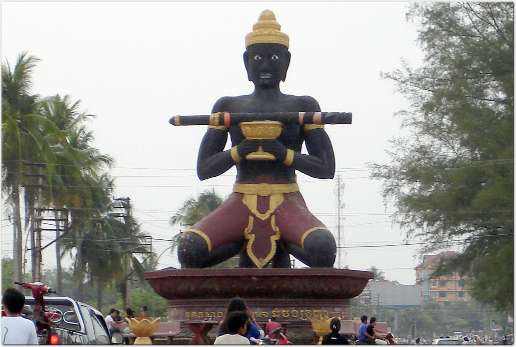 Battambang, batta batta battambang, batty bong, hmmm.... it's a funny name. Repeat after me, Bat-tam-bang, now quickly, three times, Bat-tam-bang, Bat-tam-bang, Bat-tam-bang! It sounds musical, like paradiddles for drummers… Like the name suggests, Battambang is the mysterious second city of Cambodia - languid and virtually free of tourism. It's Cambodia's arts capital. Locals say that there has always been 'something in the air'. It's here that I have the privilege of gaining some first hand insight into this idea by paying a visit to the humble home of Ros Sabouen.
Ros Sabouen is the surviving sister of Ros Sereysothea who is Cambodia's iconic singer of the 1960s and who is also known as "the golden voice of Phnom Penh". I first met Sabouen when she and her grand daughters visited a CSP recording session in Phnom Penh a couple of years ago. I later heard that Sabouen had been worried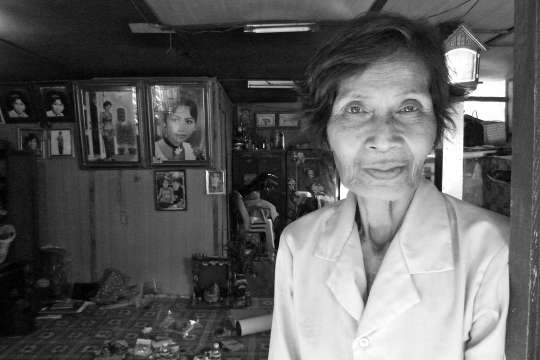 about visiting the studio on that occasion because she feared it might bring back terribly painful memories. She graced us with her presence anyway. Sabouen is well aware that she is now an important link to the past. Her oral history is a living link to an astonishing music history and a Cambodia that once was, but has since vanished. On this occasion filmmaker Marc Eberle had arranged for an interview and for CSP's Srey Channthy and myself to join the conversation. The idea of the interview was not one of just translation but to talk about music and to ask about how the echoes from Cambodian 60's 'Golden Era' connect with todays cultural revival.

Sabouen, a frail and aging survivor of the Khmer Rouge years (so many of her family members were killed during this period), welcomed us into her home, hugging and laughing at the excitement for the occasion. With her grand niece at her side, she began the conversation by showing us her photo wall. Every bit of space is covered with ornately framed photos that shows her family and pays homage to her sister's legacy. As she pointed to early studio photos, she began to recollect the times and the places these images were taken.

Sitting cross-legged on the floor, Sabouen thumbed through a photo album and pointed to the collection of fac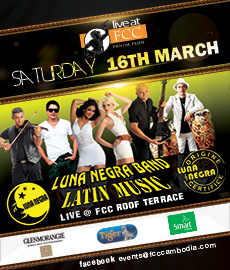 es that shone through the dusty, glossy covers. Neighbors joined us by peering over our shoulders and punctuating the conversation by stating the names of this collection of Cambodian singers - "Meas Samouen!", "Ros Sereysothea!", "Sin Sisamouth!", "Pan Ron!", "Pov Vannary!", "Chunn Vanna!", "Ho Meas!" and so on. Sabouen pointed out how so many of these lost voices had come from Battambang. She refers to a famous club called Stung Khieu (Blue River) and how these superb singers
had once upon a time graced the riverside stage of this venue. She fondly recalled how their voices, a unique timbre distinctive to the Khmer vocal style, rang through the analog sound systems and out across the town square between the old market and the Stung Seng Kay river that meanders lazily through the center of Battambang. These singers were the soundtrack to the newly independent Cambodia of the 50's and 60's. Romantic ballads styled under the influence of French colonial culture.Songs filled with lyrics inspired by this Cambodia. They sang of special places and the freedom of those days, of free expression and, in the case of one Sin Sisamouth's most famous songs, of Stung Khieu. They sang about the very place they were standing - down by the Blue River.

Sabouen turns a page. Our thoughts jump from the nostalgic ballads to the swinging sounds of the British Invasion. Sabouen pulls a photo from the album. It's her sister and she is now dressed in a mini skirt and sporting the bouffant beehive hair do of the day. "Twist" "Jerk" reads two English words on the record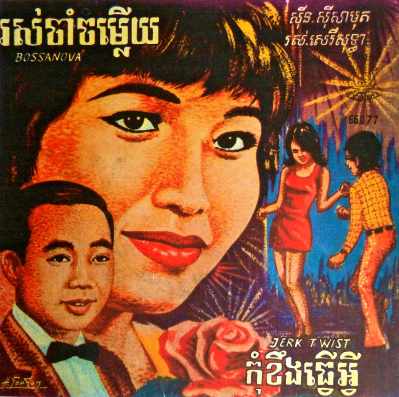 cover. Marc asks "How did the sound change?". "Rock & Roll, dancing Twist" comes the response in limited English. Sabouen explains through Channthy that these new sounds and fashions and ideas all arrived at once and suddenly. Many records were being cut (mostly in Phnom Penh) fashions changed - the sound was wild!
Sabouen points to images of young men and women wearing the radical new fashions. There's a young woman in a military uniform (another relative) then of her sister - most likely in the early 70's in a paratroopers outfit. The fashions and the changes in costume indicate a dramatic turn in culture and lifestyle. The free spirit of the mid 60's had lost its innocence and had become embroiled in the political turmoil and the Vietnam War that loomed upon Cambodia's doorstep. In 1967 an uprising in Battambang triggered the many years of civil war that were to follow.
Pondering all this, my thoughts were broken as Srey Channthy began singing out the lyrics from an old book she had spotted. Sabouen listens for a minute then interjects by telling us how one of the original songwriters was still alive and living right here in Battambang. We can go meet him if we'd like? Yes! We'd love to meet Voy Ho, the man who was almost single-handedly was Cambodia's Tin Pan Alley - the hit-making songsmith of the day. But before we could make arrangements for another meeting Sabouen asked us to stay for lunch.

Her shy grand daughters began appearing. Quickly they started laying out plates, utensils, bowls of delicious Khmer style curries, baguettes and drinks. They then disappeared as fast as they had emerged. They ran back behind plywood walls to the back of the house - a safe place to listen in on the conversation of their grandmother entertaining her unusual visitors. Frail but sprightly, Sabouen gets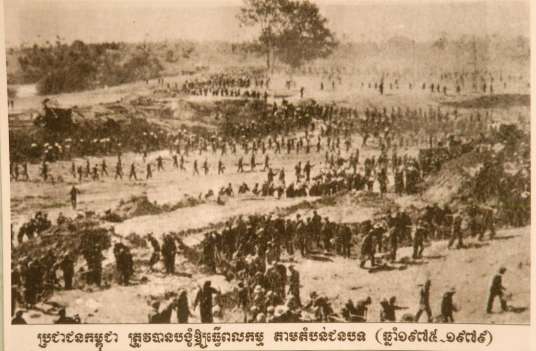 back up on her feet to pass me a photo album on which she had noticed my eyes had been gazing. It was a beautiful collection of old record covers. She then says, as she passed me a cold beer, the usual Cambodian gag, "My Country, My Beer" - a slogan from the Angkor Beer commercial. Ah yes, "My country, my beer" but on this occasion it was "Her music, her story, her country's baffling and tragic history."

I take a long drink from a nice, cold can of Angkor and then ask Sabouen if she knew Pan Ron? "Of course" she says. I knew the answer already, it's just that I wanted to know more about this enigma - the Khmer diva who was first in line to the throne of Ros Sereysothea, Queen of Cambodian rock & roll. The day before I had asked a local artist about Pan Ron: "Where had she lived?" "How did she die?", and was he aware that Pan Ron had been abandoned as a baby, left outside a convent and raised by the church. More shocking was the story of how she died, allegedly a certain man had sworn that he would "kill her and bury her alive with her four children". P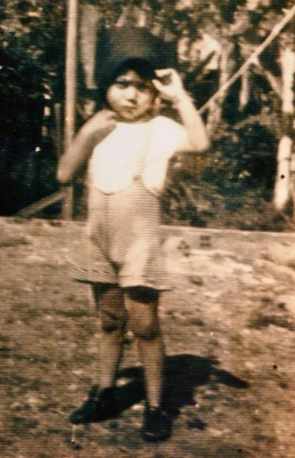 erhaps this is what happened because she certainly vanished – along with so many other people from Sabouen's photo albums. Sabouen began giving her own account. We didn't touch on the details of Pan Ron's death but she confirmed much of what I'd already been told. Sabouen then spoke slowly and quietly of her sister's disappearance. She told us how Sothea also had children. "Here's the photo of her son" she says as she thumbed back a couple of pages and lifted out a sepia-toned image of a very young boy who stares directly through the photographer's lens and back at us. "How did he die?" Channthy translates: "He died on the road". "What do you mean, the road?". Like the imagery Cormac McCarthy runs through his book "The Road" both Sabouen and Channthy proceed to explain and describe to us the scene - one of mass eviction from the city of Phnom Penh as the Khmer Rouge ordered the entire city to leave. Refugees fled with whatever semblance of their previous lives they could carry - including the old and weak, and the young and helpless children and babies. This young boy, in this only existing photograph of the heir of Ros Sereysothea, died on the road out of Phnom Penh - somewhere near Kampong Speu. This was 1975, the year the music stopped.
"I looked everywhere. Through the mountains, until I could barely walk. It must have been two days and then the Khmer Rouge caught me and sent me to prison. I never found out how they killed her but I know she was murdered by them at that time". This is how Sabouen describes the disappearance of her famous younger sister - Cambodia's greatest female singer. Then, after a pause, Sabouen reflects on happier times and her memories of the young family growing up near Battambang
and then, most graciously, thanks us for our interest. We are humbled to hear her story.

There are so many Cambodian songs about Battambang and I've a gut feeling that this might even be the place where the 'heart and soul' of the Cambodian music emanates. Perhaps this is just being overly nostalgic but it surely feels like there is some kind of spirit here, an alluring atmosphere. Perhaps the place to seek out the soul of Cambodian rock & roll. This is where you can find the old clubs where Sin Sisamouth and Ros Sereysothea once sang. This is where venues like the Blue River Lounge once were but are now demolished and, in the case of the Blue River, are now just a duck pond. As we tuk tuk back along the riverside, Marc points to the beautiful, ramshackle row of empty colonial buildings with some now being opened as Cafes. He tells methat when he was walking through one of these abandoned buildings 11 years ago that his guide told him that nobody wanted to restore or re-build the place. The guide said if they began digging that they would surely soon be digging up the bones of many poor souls.

There's a bright side: the arts revival that is happening in today's Cambodia is especially profound in Battambang. This beautiful, heritage city is where young Khmers are setting up their own funky galleries and arts studios - they are writing their own books and plays and they are producing theater and circus shows. Youthful musicians are jamming, improvising and creating new music. They move through the usual play list as well as new music informed by their own lives and the environment where they live and work. Through all of this, there's still that most important ingredient: the heart and soul of a Cambodian culture that once was.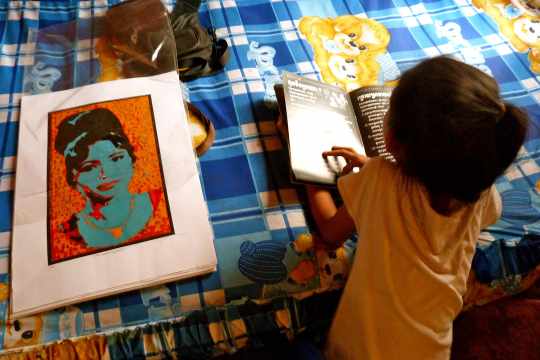 The following day I walked across the grounds of Phare Ponleu Selpak. This organization offers regular schooling covering standard subjects but also offers teaching in circus, theatre, visual arts, animation and music. The name translates as "the brightness of art" and, indeed, on this bright sunny day I can hear and see small groups of music students and their teachers having lessons under the shade of giant trees. The sounds of ancient instruments ring out across the common area where another group of teenagers are practicing acrobatics and circus moves in preparation for the evening's show in the PPS circus tent. PPS is a remarkable cultural organisation in Battambang. For almost 30 years it has offered young people a way out of poverty by training them to become professional artists and performers. Originally PPS was set up by Cambodians returning from the refugee camps in 1994. These returnees had learned about using art as a means of coping with trauma. It is an Arts NGO and has played a huge role in promoting and developing Khmer culture over the post Khmer Rouge years. The professional shows and tours which they produce have attracted much acclaim and success all over Cambodia and, indeed, the world.

We are here to collaborate with all the above. We are here animating scenes for Marc Eberle's long anticipated music documentary as well as working on the idea of a cross-artform, rock & roll circus. This week the Cambodian Space Project returns to Battambang to workshop with renowned Belgian avant-garde theatre director Michael Laub. Michael will bring dancers into CSP's show and look for ideas to create a new kind of theatre out of all this. None of us are entirely sure what all this will be but we're doing it anyway. "Art for arts' sake" and we will present a taste of it on Saturday 3rd March in the PPS Big Top – a circus tent in Battambang. If you have yet to visit this place then this is the occasion to come, stick around for the whole weekend and join us for the grand finale – a 'wrap party' with dancing in the streets right outside Battambang's, and possibly Cambodia's, funkiest venue - The Madison Corner. This event is a chance for to pay tribute to the music legends of this city. It to aim to raise cash donations to the family of Ros Sabouen by selling print art works of her famous sister, the iconic Ros Sereysothea. There will be great food, films screening and special drinks, and, I dare say,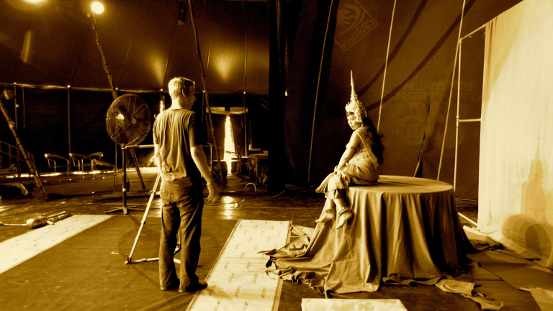 more than one or two clowns making for an a most colorful celebration of Cambodian rock & roll.

This leads me to my final anecdote. Following our visit to Ros Sabouen, Marc and Channthy had arranged to meet the aforementioned Voy Ho. Ho is 82 years old and we were told he might not be up for a visit (anyway, the filmmaker didn't invite me, probably for butting in with too many questions the day earlier) but Marc and Channthy were lucky. Ho was indeed up for a visit and was extremely animated and apparently shared his recollections and stories in a most lively and entertaining way. He was chuffed to hear about Channthy and the CSP and how the band was covering many of his old songs. He was most amused to hear that one of these tracks was Kynom Mon Sot Jet Tay (I'm Unsatisfied) and immediately started explaining that the story behind this song lyrics was from a very angry woman's perspective. Vo Hoy explained how he had ten wives back in the day and how the song talks of a 'psycho lady' coming to track down a guy who 'has a face like a monkey trapped in a cage' and so on. Apparently Ho had his room full of visitors in tears of laughter as he ducked, weaved and rambled around Eberle's questions. He offered to write some songs for Channthy and the CSP, Channthy told me how she jumped at the offer and, counting on her fingers immediately gave him a job brief : "I want one Madison, one Khmer Surin and one rock & roll 1960's style" she said. She told me she offered to pay him $50/per song. "What?!" I replied, "You can't do that! That's not enough for this kind of work". But Marc and Channthy told me, no, that it is okay. Voy Ho had told them he still writes songs and is paid a mere $5/song.

I'm still a little dubious on all this and more so on the personal history of Voy Ho himself. I didn't get to meet him, wasn't invited, but I do know, as do many others, that this man is alleged to be an impostor. I asked Marc and Channthy about this, as well as Ho-friend Ros Sabouen, who would surely be able to say whether or not Ho was who he says he is. Yes, it's him. These days he has a disfigured face. Perhaps it's this or perhaps it is because of the fact many people who survived the Khmer Rouge had lost,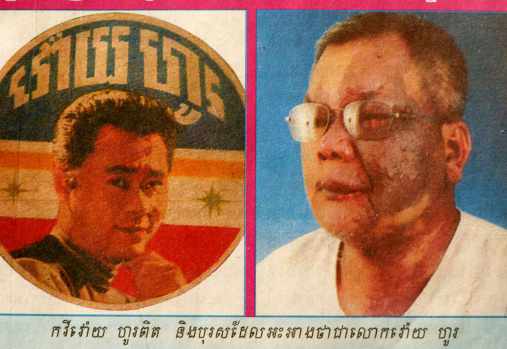 hidden or changed their own identities along the way. It was for survival. On this occasion, this Voy Ho, the one we believe to be the real Voy Ho, didn't really talk much about this but tellingly, declined the offer to join our Madison Corner street party as a special guest. I asked Channthy why? She and Marc told me that it is because he fears someone is out to kill him. He fears leaving his house. The debate over his identity (and perhaps other things) is real enough for this very old man to be afraid - too afraid to leave his home.

Marc and Channthy told me Voy Ho's story over dinner at an Indian restaurant next to the Madison Corner. I was aware of the identity debate, many Cambodian magazines and newspapers have run side by side photos of young Voy Ho and the post KR, facially disfigured Vo Ho whilst posing the question "Is this Him?". Our tuk tuk driver had joined us at dinner and confirmed all this and then launched into one fascinating tale about the identity of Battambang itself – a story about how the town got it's name "Lost Stick". "Lost Stick? Is that what Battambang means" I asked. He replied "Yes. You know the statue of the giant black guy with the stick? The one you saw on arriving into the city? Well that the man is Ta Tom Bong Kra Nyung and he is the legend after which this place is named".

As the story goes, Ta Tom Bong Kra Nyung was a cook, a peasant boy that was working as a slave. He was cooking and preparing meals when one day he finds a stick and uses it to stir a cauldron-sized pot of rice. The rice turned black from the stick - it's a magic stick! But Kra Nyung must hide his mistake before his masters return. He does this by eating all the black rice. The black rice causes him to change colour. His skin blackens and soon he become stronger and stronger. It gives him great strength and he soon has the power of seven elephants. With all this power, he soon seizes control of the place. Kra Nyung frees himself and many others from servitude and slavery and runs the King out of town then becomes a king himself. All goes well until the day Ta Tom Bong Kra Nyung has a routine check-up with a local fortune teller. The fortune teller shocks him with the revelation that he would not remain the most powerful and that soon a child would be born that would one day unseat him. Furious, Ta Tom Bong Kra Nyung sets about having all pregnant women rounded up and burned alive. Despite this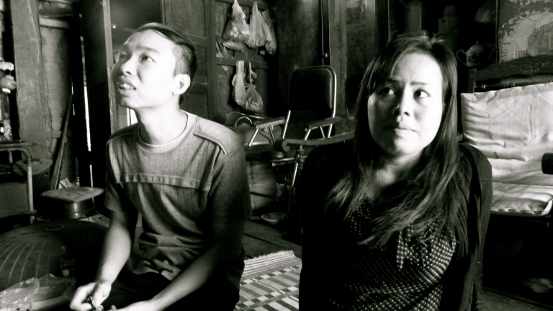 appalling measure, one baby was rescued from its dead mother's womb. The child was then hidden on a small vessel and sent floating down the Stung Seng Kay river to safety. The child survived but had become badly burnt during the process. Consequently he had a very scarred appearance and, as such, became very well known.

Years later this disfigured and deformed beggar child had grown into a young man seeking knowledge. He decides to travel to the city. Along the way he meets a mysterious old, wealthy man on a horse. The old man was also heading the same way and seeking something too – he was seeking youth. Somehow (lost in translation) the young man and the old man's entities merge and they become one (I'm kind of making this up). The beggar boy transforms into a powerful and handsome man and one that has suddenly inherited a horse and the old man's fancy clothes. He sets off for the city - confident and strong. Kra Nyung hears of all this and recalls the prophecy. He rides out to attack and destroy this rival. He hurls his stick at his opponent but misses. His stick and his power is lost and his reign is finished. Ta Tom Bong Kra Nyung flees to Laos (where his incredible story continues) and leaves behind a town since named after his lost stick, Battambang."

"Wow! Thanks for telling me" I told the tuk tuk guy, "What an amazing story - thanks for sharing this".
So, don't forget to join us for another unlikely story - THE CAMBODIAN SPACE PROJECT and its rock & roll circus this weekend at Phare Ponleu Selpak in, Battambang - the city of the lost stick, the heart and soul Cambodian rock & roll.
This week's usually lively music scene is quieter than it normally is, though it is very encouraging and somewhat surprising to see how so many new venues have opened around Phnom Penh and across Cambodia. The Village is now a first class live room with a great stage and sound system, a venue that can accommodate and host all sorts of music, let's hope they get the programming balance right as this room's a great set up for local and touring musicians. The Doors and Showbox are also excellent new venues, if you haven't been there already then check out Diego "El Gipsy" Dimarqués at The Doors this Friday night. Meanwhile, Phnom Penh's everywhere man Scoddy Bywater is back at Paddy Rice keeping the Lazy Drunks frontman seat warm for Ian Rowlett Anderson (who is happy and well back in sunny Leciester but promises a return soon). The Kampot Playboys are up from the riviera and will pot out at Sharky's this Saturday night. The Cambodian Space Project is in Battambang working with musicians from Phare Ponleu Selpak and will arc up the big top circus tent in Battambang this Saturday night with it's 'rock&roll circus' and cap of the weekend at Madison Corner.
Latest Gigs
8:30 PM ~ Lady and the Tramp at The Village
9:00 PM ~ DJ Flo Trallala and Greg Lavander at MetaHouse
8:00 PM ~ Ringtail at The Cavern
8:00 PM ~ Dean "Wolf" Bailey at The Old Market in Siem Reap
9:00 PM ~ Diego "El Gipsy" Dimarqués at The Doors
9:00 PM ~ The Kampot Playboys at Sharkys
9:00 PM ~ The Grass Snake Union at The Bodhi Villa in Kampot
9:00 PM ~ DJ Alcohol at The Do It All Club
9:00 PM ~ DJ Nico at MetaHouse
9:00 PM ~ Jerby Salas Santo and Ziad and Henrick at The Blitz Bar
9:00 PM ~ The Lazy Drunks at Paddy Rice
6:30 PM ~ Euan Gray at The Terrace
7:00 PM ~ The Cambodian Space Project in the town square in Battambang
8:00 PM ~ The Rum Club at The Otres Market in Sihanoukville
9:00 PM ~ DJ Illest at Pontoon
9:00 PM ~ DJ F.U.D at MetaHouse
9:00 PM ~ Sliten6ix The , Sexploited, No Forever and Count Us In at Sharkys
9:00 PM ~ Emcee Dolla, KlapYaHandz and DJ Stroke at The RiverHouse Lounge
6:00 PM ~ The Cambodian Space Project at Madison Corner in Battambang
Coming Up
Durian Funk Band at Equinox and The FCC Phnom Penh
The Grass Snake Union at Equinox , Le Jardin
Dr. Eggs * at Equinox
Dub Addiction at The FCC Phnom Penh
Luna Negra at The FCC Phnom Penh
Scott Allan Knost * at Molly Malones in Siem Reap
Splitter at The Show Box
Euan Gray, Sebastien Adnot, Greg Lavander, Gordon Webster * and Kae "Sylvie" Lhassan at The Village
The Cambodian Space Project at Equinox
Kheltica, Pou Klaing, Diego "El Gipsy" Dimarqués, Euan Gray and Kok Thlok at The Mith Samlanh Center
Lady and the Tramp at The Village
RNA + Friends at Paddy Rice
Tiny Toones at Equinox
DJ Illest, Hydrophonics, DJ Tech 12 and Akil the MC * at Pontoon
Unwrap! The Bambu Stretch Project at 1961 in Siem Reap