Hi,
The Kampot Playboys are on the road this week, with a couple of dates away from their regular riverside stomping ground. The Khmer-Western fusion band reach Here Be Dragons in Battambang on Saturday. The Playboys blend rock, groove and pyschedelia with Khmer vocals and the traditional textures of the Tro Sau Toch, a Khmer bowed instrument. Brothers Mark and Ben Chattaway provide driving bass and drums while Uk Sokchiet and Bong Tro take care of vocals, guitar and tro. Frontman Chiet is good at rousing the audience into a frenzy and behind him the band plays loud and hard. Consequently their shows usually have great energy and an accompanying air of 'anything could happen'.
The Playboys journey to Phnom Penh on Sunday for a late afternoon/early evening show at Alleycat Cafe. The Sunday Sundowner Sessions has continued as a weekly open mic with host Joe Wrigley since the departure of it's founder Scott Bywater last year. There is something about the intimate surroundings, colourful murals and convivial atmosphere of the Alleycat that invariably coaxes great performances from the guest musicians... or perhaps it's the ever-present, smiling good cheer offered by restaurant manager Dallas Fellows that really keeps the party going. Either way, The Kampot Playboys are taking over The Sunday Sundowner Sessions this weekend for a combination of open-mic session and gig.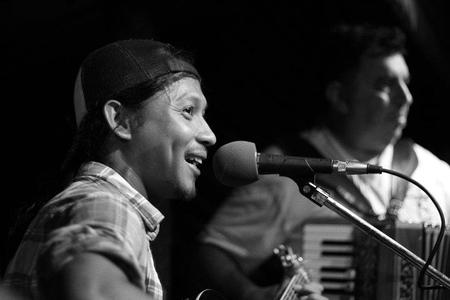 Newly-formed Phnom Penh band Psychesonica are taking a brief tour soon, with three dates coming up in Sihanoukville. Jack apologises to Psychesonica for incorrectly quoting their line-up in a previous weekly wrap. Singer and guitarist R J Marshall got in touch with Leng Pleng to make the correction and let us know a little bit more about the project:
'Psychesonica are a psychedelic rock band featuring Jet Odrerir (US), RJ Marshall (UK), Kenny Smith (US) and Boom Baar (KH). Basically we are the only band in Cambodia playing the sort of music that would have been blasting over the airwaves from the Americans in Vietnam in the period directly leading up to and including the Golden Era of Cambodian rock 'n' roll. Pre-apocalyptic psychedelic rock, as it were.'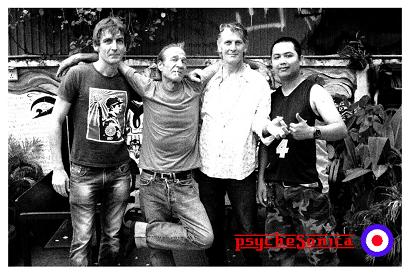 You can catch Psychesonica this Saturday night at Sharky Bar in Phnom Penh.
Last week the Australian band Astronomy Class released a new album featuring guest vocals from Srey Channty of The Cambodian Space Project. Have a sneaky listen to the results below, on a fantastic track called 'Four Barang in a Tuk Tuk'.
Also, a video of The Kampot Playboys performing a typically spirited Khmer version of 'Gloria' at Bokor Mountain Lodge in Kampot.
Until we meet again, enjoy your weekend of gigs and... see you around the traps.
JACK DIAMOND.